ABOUT SHARKY'S
Sharky's has been one of the top Neighborhood Sports Bars in Raleigh for over 30 years. After founder Jack Pinkstaff decided to hang up his spurs in 2012, Randy & Simone Wilson decided to take a swing at keeping this Raleigh icon up and running. After a great deal of remodeling and revamping Sharky's has returned to it's glory days and then some! Now with over 22 large screen TV's, outside viewing on a outstanding patio, 6 new Gold Crown pool tables, a great dart area, new furnishings, and an outstanding beer AND whisky selection, Sharky's may well be THE Premiere Neighborhood Sports Bar in the Triangle.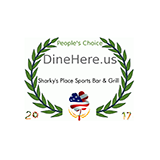 EVERY GAME. EVERY SUNDAY.
NEVER MISS THE BIG PLAY AGAIN!